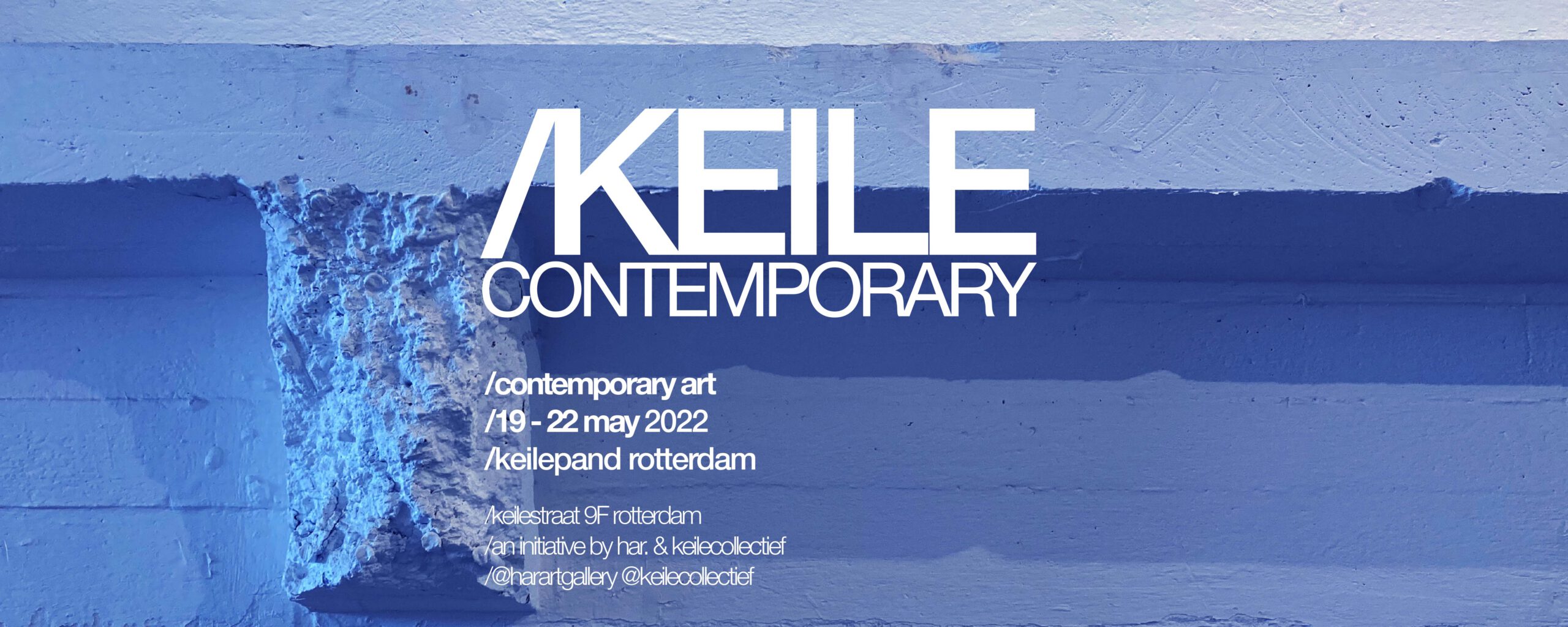 Welcome at har.
Join us for our next KEILECONTEMPORARY which will take place during Rotterdam Art Week!
From May 19th to 22th (2022) Rotterdam will be the contemporary Art capitol of Europe.
Welcome back at KEILECONTEMPORARY. These four words hold a new value to me after roughly 2 years of COVID. Ideas  where put on hold, exhibition pushed further down the line or got cancelled all together. Our world seemed reduced yet in the midst of our adaptation art prevailled.
This is the first 'all out' exhibition the Keilecollective and I can show to you,
We're happy, we hope you feel the same, let's savour, let's enjoy art again, and again.
This edition will feature the works by some exceptional artists:
TAMARA DEES – ElLMA ČAVČIC – KAREN VAN DE VLIET – WIETSE EEKEN – FRANK HAVERMANS – JOHAN GELPER – LUCIUS PAX
Opening times 19 -22 May
Thursday 19 – 12:00 – 21:00
Friday      20 – 12:00 – 19:00
Saturday  21 – 12:00 – 21:00
Sunday   22 –  10:00 – 19:00
On Sunday the 22nd I will host a tour through the exhibition
We sincerely hope to welcome you at KEILECONTEMPORARY!
KEILECONTEMPORARY is an ongoing series of exhibitions on contemporary art in the 'Keilepand'.
Initiated by har. and the Keile Collective in 2019 we have been a podium for a variety of artists including:
Marina Heuvelman . Hannah Fletcher . Karen van de Vliet . Christian Thømsen . Rob Vis . Maaike Kramer . Lucius Pax . Andrea Radai . Lilian Kreutzberger . John Ryan Brubaker . Frank Havermans . Elma Čavčić . Wietse Eeken . Johan Gelper . Magnus Vatvedt . Zhixin Liao . Sander Bokkinga . Tamara Dees . Pim Palsgraaf
Location
Keilepand
Keilestraat 9F 3029BP Rotterdam
inquiries and reservations: welcome(at)harart.gallery